Frontiers in Bioenergy Symposium
News May 09, 2011
Frontiers in Bioenergy Symposium / Participants / May 15-18, 2011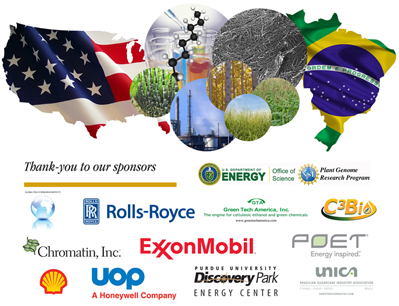 (REGISTRATION NOW OPEN)
6th Frontiers in Bioenergy
United States-Brazilian Symposium on Sustainable Bioenergy
May 15-18, 2011
Purdue University, West Lafayette, Indiana 47907
www.conf.purdue.edu/bioenergy
Close to 300 participants are expected to gather for the sixth in a series of symposia called Frontiers in Bioenergy. This year's symposium will feature U.S. and Brazilian leaders from academia, industry, and government agencies to discuss the path forward to sustainable bioenergy production.
Networking and collaboration opportunities will be plentiful. Coffee breaks, meals, and other symposium gatherings—both formal and informal—will provide excellent opportunities for strengthening relationships and exchanging research project and business development ideas. In particular, we will engage with our Brazilian colleagues to forge strong collaborations around our common goal of making bioenergy a key component of national energy security.
RELATED ARTICLES
News
Hidden underground networks of plant roots snake through the earth foraging for nutrients and water, similar to a worm searching for food. Yet, the genetic and molecular mechanisms that govern which parts of the soil roots explore remain largely unknown. Now, researchers have discovered a gene that determines whether roots grow deep or shallow in the soil.
READ MORE
---
---
---
To personalize the content you see on Technology Networks homepage, Log In or Subscribe for Free
LOGIN
SUBSCRIBE FOR FREE