Frontiers in Bioenergy Symposium
Frontiers in Bioenergy Symposium
Want a FREE PDF version of This News Story?
Complete the form below and we will email you a PDF version of "Frontiers in Bioenergy Symposium"
Company Type*
Job Function*
Would you like to receive further email communication from Technology Networks?
Technology Networks Ltd. needs the contact information you provide to us to contact you about our products and services. You may unsubscribe from these communications at any time. For information on how to unsubscribe, as well as our privacy practices and commitment to protecting your privacy, check out our
Privacy Policy
Frontiers in Bioenergy Symposium / Participants / May 15-18, 2011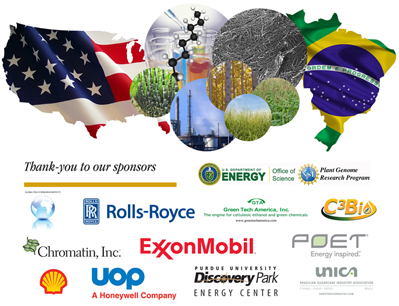 (REGISTRATION NOW OPEN)
6th Frontiers in Bioenergy
United States-Brazilian Symposium on Sustainable Bioenergy
May 15-18, 2011
Purdue University, West Lafayette, Indiana 47907
www.conf.purdue.edu/bioenergy
Close to 300 participants are expected to gather for the sixth in a series of symposia called Frontiers in Bioenergy. This year's symposium will feature U.S. and Brazilian leaders from academia, industry, and government agencies to discuss the path forward to sustainable bioenergy production.
Networking and collaboration opportunities will be plentiful. Coffee breaks, meals, and other symposium gatherings—both formal and informal—will provide excellent opportunities for strengthening relationships and exchanging research project and business development ideas. In particular, we will engage with our Brazilian colleagues to forge strong collaborations around our common goal of making bioenergy a key component of national energy security.